Stop, Read, & Apply: Guided Revision Activities
Earlier this year, I participated in a conversation on collective feedback during a Faculty Office Hours session (an online chat for teachers of professional and technical writing). Collective feedback, a strategy examined by Lisa Melonçon (University of South Florida, @lmeloncon on Twitter) in a five-year study (see her resources online), provides the whole class with details on frequent errors found in the drafts for the course, replacing some, if not all, individual feedback on projects. The process gives the instructor the chance to review common errors with everyone, eliminating the duplication of explaining to each student individually.
Building on Melonçon's research, Dr. Sara Doan (Kennesaw State, @SDoanut on Twitter) described an in-class activity that she uses to guide students through revision of their projects. She explained that she would tell to the class that she was going to review "Ten issues you all need to fix." She then asked students to open a copy of their project on their computers. Once students were ready, Doan then stepped students through common errors that they should correct in their drafts. For example, she asked students, "Is your name the biggest thing on your résumé? If not, you need to fix it."
I love this strategy. I have given students checklists and rubrics to use as they evaluate their drafts, but the same common errors persist. The challenge for me is that my classes are all online. I cannot gather students and ask them to all open their projects so I can walk them through revision strategies.
I created a Google Slides presentation (click on the screenshot below) to solve the problem, calling it a "Stop, Read, & Apply" activity.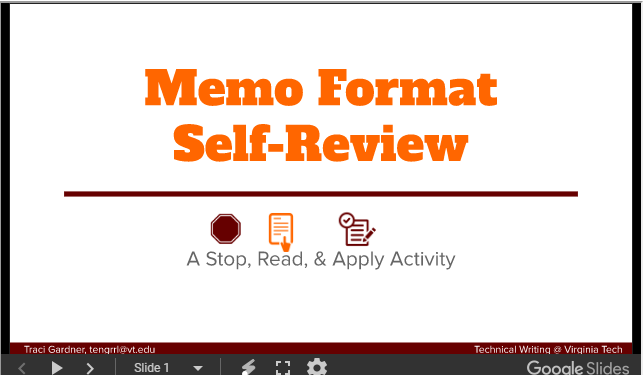 The instructions essentially match those that Doan used: Students open their project, and then advance through the slides, stopping on each one to read the details on the common error and then apply that advice to their drafts. To focus students, the slideshow addresses only common errors in memo format. If the activity works, I will create similar slideshows for other common issues students can review as they finish their work.
Because the slides are online, I can also use them in feedback to students. All I have to do is open the Slides file in a new browser tab, advance the presentation to the slide I want to reference, and copy the link from the browser. For instance, I can link directly to the slide on eliminating opening greetings in a memo. So simple!
I hope that this slideshow-based system will slow students down, encouraging to check their drafts more carefully. Further, I can easily adapt it to any course and assignment I might teach. I am eager to see if the activity helps students address common errors. I'd love to hear your feedback on the strategy as well. What do you think? Would you use a similar resource in your courses? Are there "Stop, Read, & Apply" activities you would like to see in a future post? Leave a comment below and tell me what you think!
This post originally published on the Bedford Bits blog.